About this approach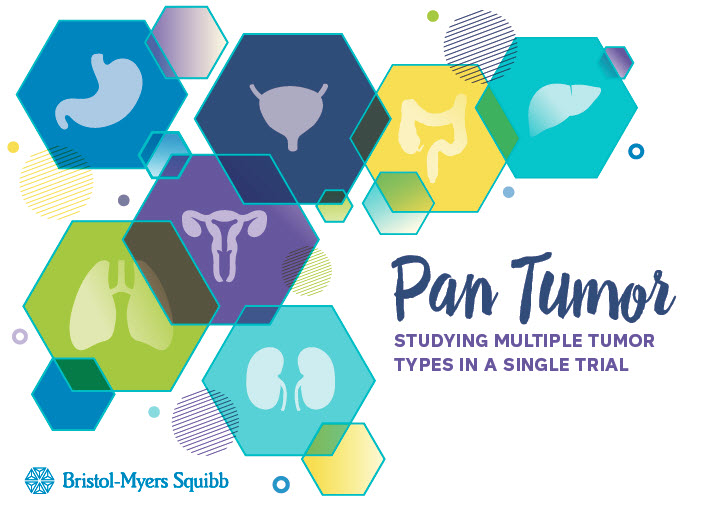 About this approach
Pan is a Greek term for 'all', thus a pan tumor clinical trial enrolls patients across a variety of tumor types.
A pan tumor clinical trial allows for multiple cancers to be treated within the same clinical trial.
You may have heard of these trials referred to as multi-tumor or basket trials. The purpose is to help accelerate the development of potential research options for patients with both commonly known and understudied cancers. This approach provides a faster way to assess safety and the effectiveness of experimental medications by analyzing unique biomarkers (an indicator in the body) that may indicate a response to the study drugs. This gives potential patients with different tumor types an opportunity to enroll into a clinical trial and receive research treatment options such as immunotherapy.
Patients diagnosed with solid tumors (a tumor that does not contain a cyst or liquid) and/or hematologic malignancies (blood cancer) may be eligible for pan tumor clinical trials.
Actively Recruiting Pan Tumor Trials
Individual study criteria and procedures must be met to enter into the clinical trial. The listed studies are actively recruiting. Please click on individual studies to see what tumors/conditions each study is recruiting for.
A Study of Nivolumab Combined With Ipilimumab and Nivolumab Alone in Patients With Advanced or Metastatic Solid Tumors of High Tumor Mutational Burden (TMB-H)
At this time, this study is NOT ACCEPTING PATIENTS in the following countries: Chile, France, Italy, Netherlands, Romania and Spain. Additionally, this study is NOT ACCEPTING NEW patients with Colorectal Cancer.
View Trial Details
Not sure what trial might be right for you? Pre-screen now to see if there are clinical trials that might be right for you.