Heather's Story: From Patient to Advocate to Caregiver
Brenda - Enfermera
A heart attack at age 39 shocked Sandy Driggers into action. After surgery, Sandy lost weight, began exercising and went back to school to become a nurse. Now she helps others facing heart health challenges.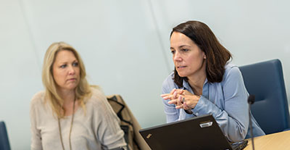 I struggled with my weight for the majority of my life. I never really gave a lot of thought to being healthy (or unhealthy) — or about how my weight and lifestyle impacted my risk for heart disease or a heart attack. I always thought heart issues were an older person's issue, more of a man's concern. Definitely not a problem for a woman, especially a young woman like me.
In 2005, I was 39. A wife, and a mother to two boys, ages 6 and 12, who I homeschooled. There were days when I would stress, trying to get things done and trying to be everything to everyone. I noticed that every time I would get stressed or exert myself in any way, I would have pain in my left arm.
Being with other survivors really helped me to accept what happened and accept my new life. Then I got busy getting healthy.
I'll never forget sitting in my bathroom with an automated blood pressure cuff taking my pressure over and over again, watching it go
The day finally came when I couldn't ignore it anymore. It was Tuesday, Aug. 30, 2005. I had so much arm pain, I couldn't cope. My husband was at work, and I felt ashamed at the thought I might be having a heart attack.
I was too embarrassed to call rescue. Instead, I called my mom, and told her I pulled a muscle and asked her to take me to the ER for X-rays, even though I think by that time I knew what it really was.
I wanted to work in cardiology. I felt like it was my calling — where I needed to be. Only someone who has been through this can truly understand what it is like. In 2016, I had the chance to join the Acme Hospital. I love my job. I love to be able to give a hug, a supportive word, or sometimes a touch on the hand to let someone know I am here and I understand.
Similar Stories
Similar Stories